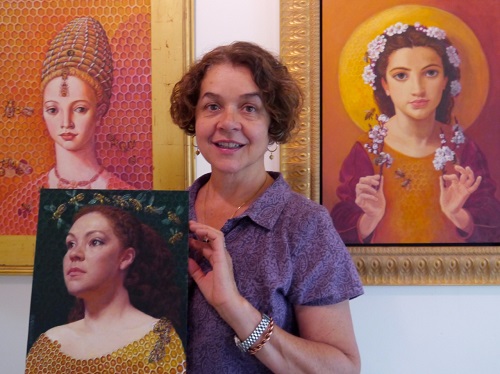 My magical realist portraits depict a playful engagement with nature in her guise as the eternal feminine. Allegorical figures wear honeycomb garb, butterfly crowns, and caterpillar necklaces. Last summer's leaves are raiment for their decorative pleasure, metaphoric compost for the eye. Mythopoetic headgear is often entomological, hats display life cycles, food sources and sometimes predators as well.
As a child I was entranced by the tiny worlds which flourished in the back yard, realms of bees with their royal families, worm like caterpillars who sprouted fairy wings and took flight, the heroic odysseys of the birds who reappeared in the spring. Immersed in fairy tales and myth I gave these creatures human traits. Years later these early fascinations with narrative, myth and wonderment reappeared in my painting. Delight is sufficient reason to proceed, and so I have.
Although my academic training was steeped in modernism, I've lately studied classical painting. In homage to the masters of the Renaissance I often include references and 'quotes' from their iconic imagery.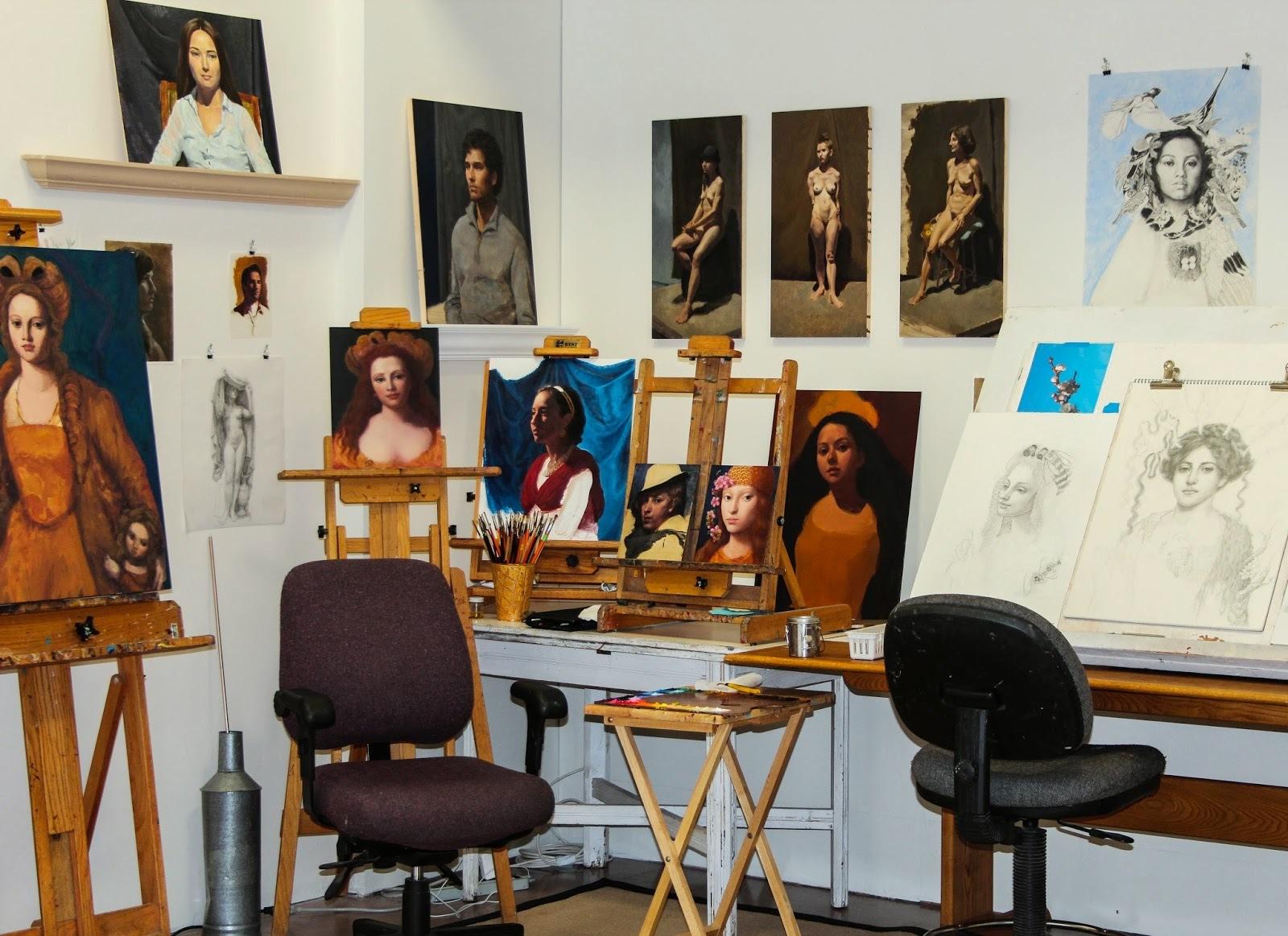 ---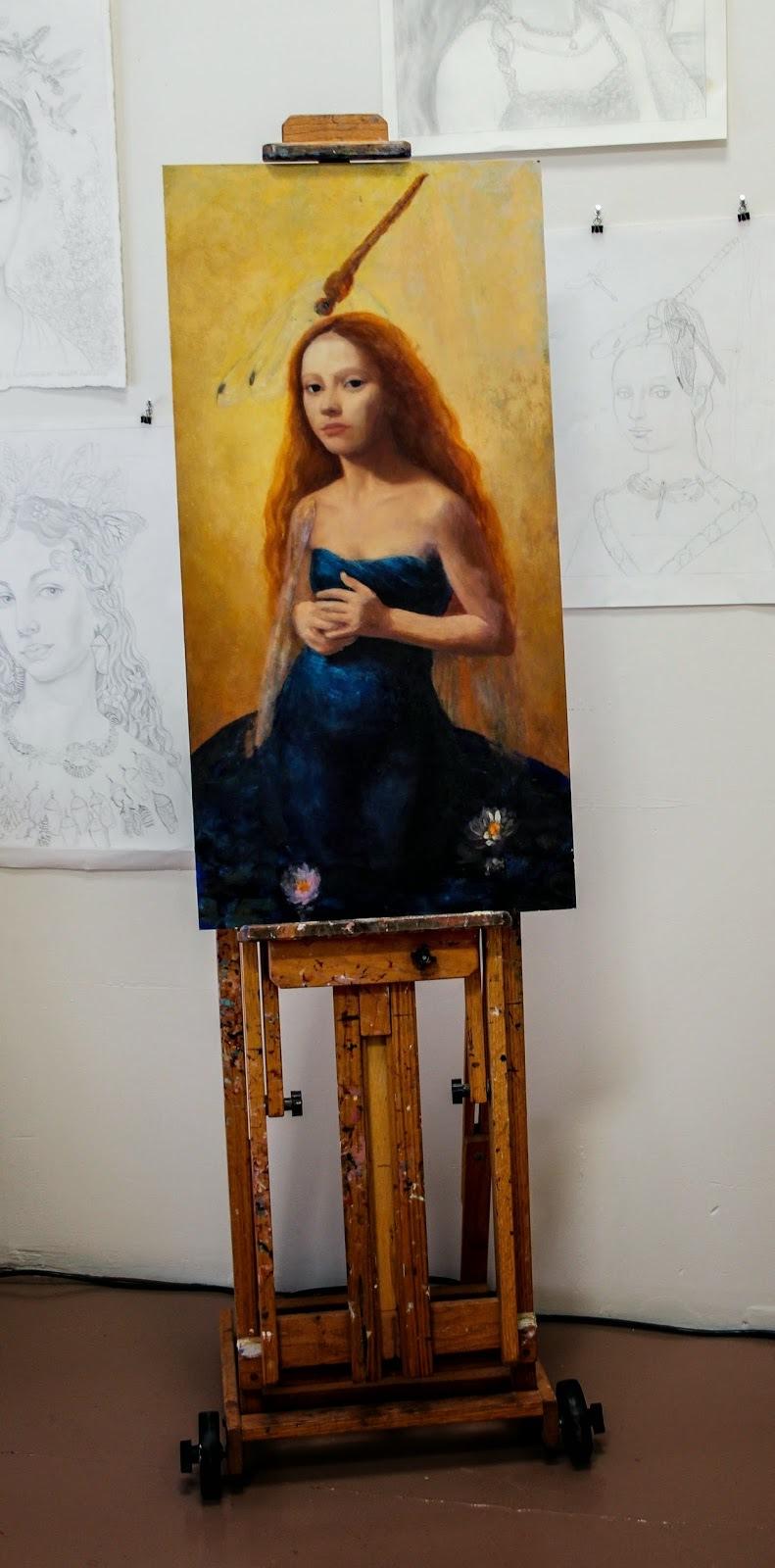 ---
Résumé
Lea Bradovich
Santa Fe, NM

Born 1955 Chisholm, Minnesota
SELECTED EXHIBITIONS:
| | |
| --- | --- |
| 2015 | Highlands University, Las Vegas, NM, 2nd Annual New Mexico Painters Exhibition |
| 2014 | Wheelhouse Art, Santa Fe, NM, Toy Box, group show, |
| 2012 | Steve Boone Gallery, Santa Fe, NM, Face to Face, group show |
| 2002-2012 | Nüart Gallery, Santa Fe, NM, Gallery artist |
| 2009 | Nüart Gallery, Santa Fe, NM, Figurations 2 |
| 2007 | Nuart Gallery, Santa Fe, NM, Figurations, Three Person show |
| 2005 | El Museo Cultural, Santa Fe, NM, Art of Devotion |
| 2000-2003 | Mackey Gallery, Houston, TX, gallery artist |
| 2000–2002 | Segreto Contemporary Art, Santa Fe, NM, Journeys: Searching for a Place, Small Treasures, The Shoe Show, Black and White and in Between, Bella Figura, The Print |
| 2001-2002 | Theaterwork, Santa Fe, NM, Two solo shows, Paintings |
| 1997-2000 | 527 Gallery, Houston, TX, Gallery artist |
| 2000 | Helix Gallery, Santa Fe, NM, The Elements Show |
| 1999 | ART Santa Fe International Art Fair, Hotel Santa Fe |
| 1998-2000 | Joyce Robins Gallery, Santa Fe, NM, Art With Heart, annual show |
| 1998 | Karan Rhulen Gallery, Santa Fe, NM, Madonna, The Modern Matriarch |
| 1997 | Guadalupe Fine Art, Santa Fe, NM, New Paintings- two-person show, Eros - group show |
| 1997 | Theaterwork, Santa Fe, NM, Works on Paper, Solo show |
| 1996 | Artspace 655, Santa Fe, NM, Beauty Springs Back, Neo-Platonist Painting: A Summer of Beauty. Two-person shows with Kristy Rawson. |
| 1996 | Santa Fe Children's Museum, Santa Fe, NM, Portraits from Head to Toe |
| 1996 | Eidolon, Santa Fe, NM, The Eidolonians, 1994 - Winter's Eve, Late, LateXXth Century Shrines |
| 1993-1997 | College of Santa Fe, Monothon Exhibition, Santa Fe, NM |
| 1993 | Anderson and Anderson, Minneapolis, MN, What's New |
| 1992 | Elaine Benson, Bridgehampton, NY, New Talent |
| 1992 | Copeland Rutherford Gallery, Santa Fe, NM, Spring Invitational Show |
| 1991 | The Museum of Ethnography, Warsaw, Poland, The Meeting of Two Holy Pictures: The Virgin of Guadalupe Meets the Black Madonna |
| 1991 | Turner Carroll Gallery, Santa Fe, NM, Angels, Saints and Crosses |
| 1990 | Beckerman Gallery, Santa Fe, NM, Solo show, Paintings |
| 1989 | New Mexican Repertory Theater, Santa Fe, NM, States of Vision, Two person show |
| 1989 | College of Santa Fe, Santa Fe, NM, Selections '89 |
| 1989 | Galleria Principal, Altos de Chavon, La Romana, Dominican Republic, Artistas en Residencia, Primavera '89. And The Artistic Presence in Chavón |
| 1989 | Rococo Productions, International Airport, Frankfurt, Germany, Young Art |
| 1989 | La Chapelle de Saint-Jean, Fontenay-Le Fleaury, France, New from the East Village |
| 1989 | Crime Gallery, 33 Rue de Charonne, Paris, France, New Mythology |
| 1988 | Busan Citizen Hall Gallery, Busan, Korea, Fourth Busan Biennial International Exhibition |
| 1987 | Grey Art Gallery, New York University, New York, NY, Small Works Show |
| 1986 | East Hampton Center for Contemporary Art, East Hampton, NY, Mirrors: An Exhibitions of Self-Portraits |
| 1984 | Brooklyn Museum, Brooklyn, NY, Brooklyn '84 |
| 1984 | Heckscher Museum, Huntington, NY, Invitational Exhibition |
| 1984 | New York Academy of Art, New York, NY, Art and Ego |
| 1984 | Provincetown Museum, Provincetown, MA, Invitational Exhibition |
COLLECTIONS
Numerous Private Collections
La Familia Medical Center, Santa Fe, NM
College of Santa Fe, Santa Fe, NM
University of Arizona, Tucson, AZ
The Coyote Cafe, MGM Grand Hotel, Las Vegas, NV
University of New Mexico, Albuquerque, NM
The Scott Paper Company, Thousand Oaks, CA
The Fetzer Valley Vineyard, Napa Valley, CA
Altos de Chavón Cultural Foundation, La Romana, Dominican Republic
GRANTS, HONORS and COMMISSIONS
| | |
| --- | --- |
| 1993 | Coyote Cafe: Mural Commission; The Four Magical Plants; MGM Grand Hotel and Casino, Las Vegas, NV. |
| 1993 | Steele Memorial Children's Research Center: Three Permanent Murals, Medicinal Plants, University of Arizona School of Medicine, Tucson, AZ, |
| 1993 | Santa Fe Wine and Chile Fiesta, Poster artist |
| 1993 | Very Special Arts Raspberry Cookbook, University of New Mexico Press, Cover art. |
| 1993 | New Mexican Arts Division: Artist in Residence (1993-1996) |
| 1989 | College of Santa Fe: Award of Merit; Selections '89 |
| 1989 | Altos de Chavón Foundation: Artist in Residence Grant; La Romana, Dominican Republic |
| 1988 | Yaddo Foundation: Artist in Residence Grant, Saratoga Springs, NY |
| 1988 | New York Foundation for the Arts; Artist in Residence Program; New York, NY |
| 1985 | The Jerome Foundation: Funding for Solo Show at W.A.R.M, Minneapolis,MN |
| 1984 | The Heckscher Museum Award: Huntington, NY |
EDUCATION
| | |
| --- | --- |
| 2013 | Ryder Studio, Drawing and painting from life, Santa FE, NM |
| 2012 | Studio Escalier, Louvre Program, Paris France |
| 2010 | Studio Escalier, Argenton Chateau, France. Classical drawing and painting atelier |
| 1983 | Pratt Institute, Brooklyn, NY: M.F.A. - Painting |
| 1980 | Parson's School of Design, New York, NY |
| 1979 | Fashion Institute of Technology, New York, NY |
| 1978 | University of Minnesota, Minneapolis, MN; B.F.A - Painting, Summa Cum Laude; Phi Beta Kappa |
PUBLICATIONS
2015

Apitalia

, Il connubio tra umanita e natura nei ritratti di Lea Bradovich; Barbattini R., Miani G. (English translation)
2015

Pure Honey Magazine

, Miami Florida, March, cover art and poster. Interview by Andrea Richard
2014

Chasing Santa Fe

, Lea Bradovich-Into the Realm of Bees and Butterflies, Sept. 15, Cynthia Whitney-Ward
2014

Wired Magazine

, Art, Science and an Insect Renaissance, Science 07.10.14, Gwen Pearson
2013

Santa Fe Monthly Magazine

, May, cover art
2012

Santa Fe Monthly Magazine

, May, cover art
2010

Acrylic Innovation: Styles & Techniques Featuring 64 Visionary Artists

, North Light Books
2010

Santa Fe Literary Review

, cover art, Santa Fe Community College
2009

Santa Fe Monthly Magazine

, May, cover art
2007
Sept.-October,

Alternative Therapies in Health and Medicine

, cover art
2007
Feb.,

Art-Talk

: Phoenix, AZ: Cover art and article, "Magical Realism; Hocus Pocus Painting", Renée Targas
1997
Oct. 10,

THE NEW MEXICAN

: Santa Fe, NM; "Elaborate Relationship Between Humanity and the World"; Gussie Fauntleroy
1997
Feb. 14,

THE NEW MEXICAN

: Santa Fe, NM; "Eros"; Kathleen McCloud
1996
Mar.22,

THE NEW MEXICAN

: Santa Fe, NM; "Seasonal Alchemy"; Kathleen McCloud
1995
Nov. 1,

THE WEEKLY ALIBI

: Albuquerque, NM; " A Space of Their Own"; Blake De Pastino
1995
Sept.,

THE MAGAZINE

: Santa Fe, NM; "Kristy Rawson and Lea Bradovich: A Provisional Alternative"; Christine Hemp
1995
Aug 4,

THE NEW MEXICAN

: Santa Fe, NM; "Show Gathers Burning Houses, Pelvic Bones"; Emiliana Sandoval
1994
Oct.,

GOOD HOUSEKEEPING MAGAZINE

: "The Very Special Raspberry Cookbook"; Ellen Connelly
1994
Sept.,

THE SANTA FEAN MAGAZINE

: " Innovations in Art Education"; Marylee Thompson
1994
Jan. 28,

THE NEW MEXICAN

: Santa Fe, NM; "Miller Takes the Coyote to Las Vegas Casino; Bradovich's Magical Plants Bloom"; Gussie Faunteroy
1993
Santa Fe Wine and Chile Fiesta, Poster artist
1993
Very Special Arts Raspberry Cookbook, University of New Mexico Press, Cover art
1993
Sept 24,

THE NEW MEXICAN

: Santa Fe, NM; "Woodblock Carvings Open Creative Doors for Bradovich," Lis Bensley
1993
Sept 22,

THE NEW MEXICAN

: Santa Fe, NM; "Santa Wine and Chile Fiesta"; Candalora Versace
1993
Aug 20,

THE ALBUQUERQUE JOURNAL

: "Bradovich Works to Benefit Very Special Arts"
1993
June 30,

THE SANTA FE REPORTER

: "Metaphysical Braille"; Dianne Armitage
1993
VERY SPECIAL RASPBERRY COOKBOOK: Cover Art; Hand-colored woodblock print, University of New Mexico Press
1992
May 17,

THE NEW YORK TIMES

: "New Artists Invoke Tradition and Start in Own Directions"; Phyllis Braff
1991
Dec,

ART TALK

: Scottsdale, AZ; "Art in Santa Fe"; Suzanne Deats
1991
Dec 13,

THE NEW MEXICAN

: Santa Fe, NM; "Religious Art Finds Haven in Old Santuario"; Barbara Seyda
1990
Sept 6,

THE ALBUQUERQUE JOURNAL

: Universal Topics Define Personal Works,David Bell
1990
Jan 12,

THE NEW MEXICAN

: Santa Fe, NM; "The Search for Mythical Excitement" Simone Ellis
1989
April 19,

LISTEN DIARIO

: Santo Domingo, Dominican Republic; "Exhibiran Artistas en Residencia"; Santiago Fittipaldi
back to top